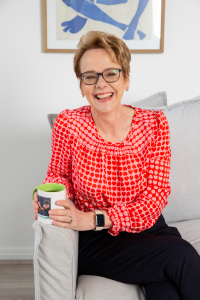 My name is Robyn Blake-Mortimer and I provide training in TEAM-CBT.
How am I qualified to provide this training?
I am a Clinical Psychologist with 18 years of providing therapy and counselling to individuals, couples and families from diverse backgrounds within a variety of settings.  I was the co-founder of ABC Psychology, now the Director of Tuned in Couples and Founder of TEAM-CBT Australia.
I completed a Master of Clinical Psychology from Flinders University in 2003 after a successful career as a teacher. In 2006 I completed the Diploma of Clinical Hypnosis and later provided training for the South Australian branch of that organisation.
In 2014, I became the first Certified Gottman Method Couples Therapist in South Australia.
I lived and worked in New York as a Marriage and Family Therapist between 2016 and 2019. During that time, I commenced my certification in TEAM through the Feeling Good Institute.
I am the first and currently the only certified TEAM-CBT Therapist and Trainer in Australia. Both David Burns and the Feeling Good Institute encourage me to run TEAM training programmes in Australia.
There has never been a greater need for therapy services than now, and I want to share these skills with therapists right around Australia.  I believe this training will make it easier for you to provide the best possible support to your clients.
Are you interested in learning more? Click here to go to the Training page
Endorsements by Level 5 Master Trainers in TEAM- CBT.
Daniel Mintie LSW, (2021)
"Robyn brings with her unique and incalculable gifts to our training community "
Matthew May MD, (2021)
I've had the pleasure of working individually and in the advanced training group with Robyn Blake-Mortimer.  She arrived with a lifetime of experience, already, especially in the realm of couple's work and had tremendous skills with Empathy.  She has demonstrated competency and fluency in offering TEAM consultation, done absolutely brilliant personal work and excelled in many other elements of TEAM training.  I'm so proud of the work she has done and am delighted for her to represent the TEAM community as a Level 4 Certified Clinician."